UK trade body slams government for "lack of political leadership" as no deal Brexit looms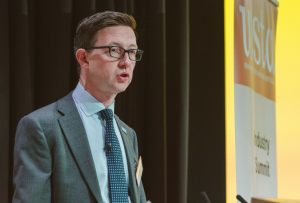 The UK wine industry is facing an "unprecedented" political climate for the fourth consectuvie year, with the timing for Brexit coming at the very worst time when the sector should be preparing for the Christmas period.
This is according to the WSTA's chief executive Miles Beale speaking at the trade body's annual industry summit in London yesterday. The proposed October deadline for the UKs departure from the EU "could not be worse" for wine businesses, he said.
"Warehouse space is already under pressure in the run up to Christmas and the Government seems hell bent on failing to act on the concerns of industry. So much for taking back control.
"In Downing Street, a lack of political leadership has been replaced by heavy handed political manoeuvring. Disruption, drift and division seem to be becoming the new norm."
Suppliers and retailers in the drinks industry such as Majestic and Bibendum are already stockpiling wine and spirits to prepare for a likely no deal Breixt, driving up the cost of warehouse space, after the WSTA advised its members to carry around 20% more sotck than suual as a "starting point" in preparing for Brexit.
The Summit heard that over the last few days there were glimmers of hope of finding a negotiated settlement that does not include a backstop, but that "while … the chance of a deal is increasing there's a long way to go."
Addressing the packed auditorium at the British Library on Wednesday (18th Sept) Beale stressed the need for industry to unite and work together. He said: "While events are disruptive, Parliament and people divided and in the absence of credible leadership, the WSTA is doing more, more often with more partners."
Beal also criticized the government for reneging on its pledge to suspend paperwork on wine imports for nine months after the break if no deal is reached with Brussels, arguing that lifting the burden from suppliers and producers could actually be a "net benefit: for the sector.
"We had been led to believe government had heard and understood our concerns, but recent decisions suggest otherwise. We can only conclude from this that Government doesn't understand the value of the UK wine industry nor the value of imports in general to the UK economy. Imports are worth roughly the same as exports to UK GDP."
The WSTA has warned that the 600,000 additional import certificates (called VI-1 forms) could cost the drinks industry as much as £70 million.