Ukrainian producers dump grapes in protest at lack of government support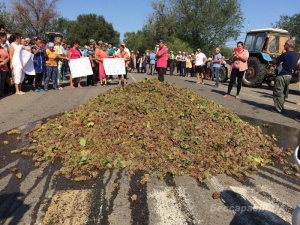 By Cruz Lijegren
A group of 200 winemakers and growers from a small village in Odessa have dumped a mountain of newly harvested grapes onto a highway in protest at the "catastrophic situation of viticulture and winemaking in Ukraine".
Since the fall of the USSR the Ukrainian wine industry has had an almost exclusive export route north to Russia. It's been an easy, albeit dangerous, strategy that was dependent on good political relations with Moscow. However, after the Russian annexation of Crimea, sales of Ukrainian wine in Russia ground to a complete halt.
After the closure of the Russian market, the protesters claim they have no other market for the grapes. Since 2018 the focus of the Ukrainian wine industry has been to find new export markets, a daunting task for many given that it is still rare in the villages of Odessa to find anyone who can speak any foreign languages.
Despite this, exports are on the rise, up by around a fifth to 34 million Euros in 2018 compared to the previous year according to agriculture minister Olha Trofimtseva
The main aim of the protestors was to gain government support in opening up new markets. But winemakers in Odessa are also worried about the duty-free import of cheap wine from southern Europé, a cateogry that has flooded the market in recent years. "I have about 2,5 million litres of unsold wine in tanks, but no buyers," said the representative of one winery in the village of Kubey in Odessa. The lack of sales might well have widespread economical impact throughout the region of Odessa, as wineries reduce their production, and thus, their workforce.